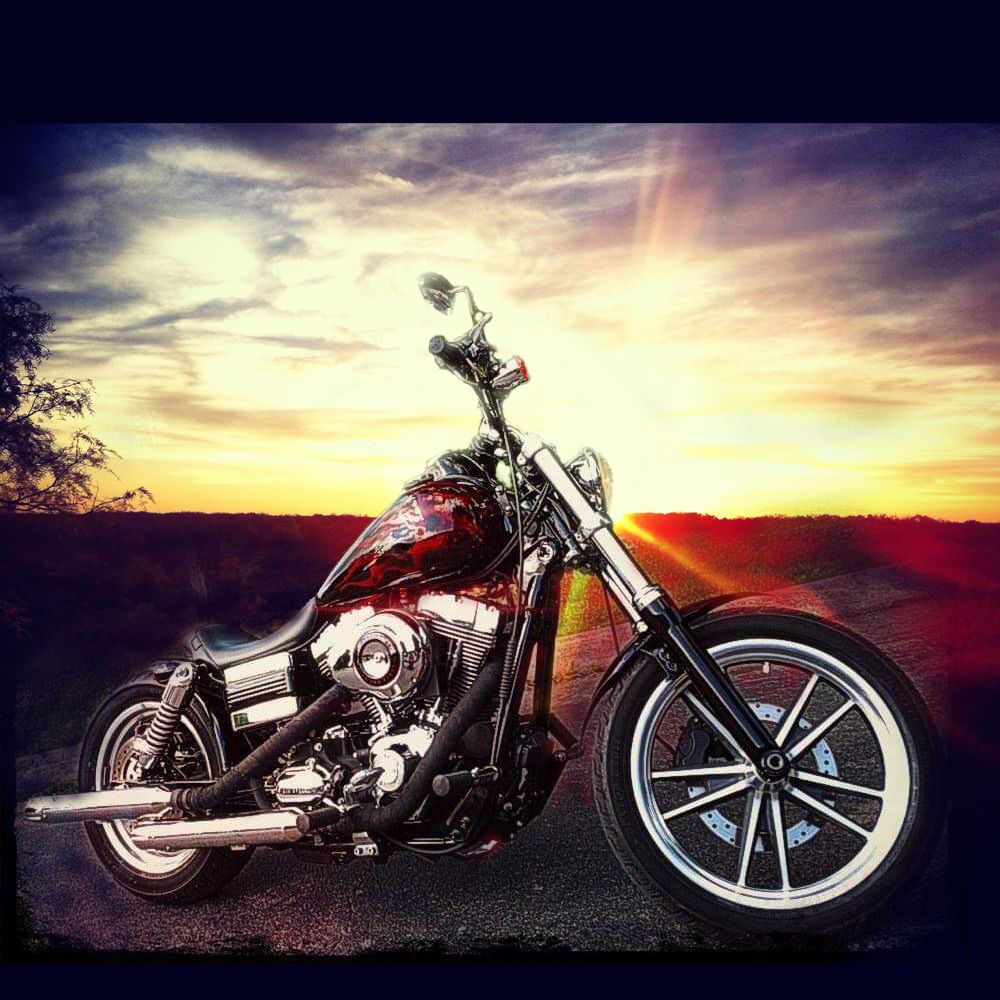 It's early 2012… I climb on the motorcycle parked in Nashville. Just needing to clear my head, I choose to take a longer back roads trip to see my family in Missouri. Some things are changing (again) and there is nothing like the open road and sky to help put things into a different perspective. I make it to my destination before dusk so I decide to circle the old town as the sun sets. I'm noticing many things being similar now to how I remember them then, yet so much has changed about the person viewing the landscape that they seem much smaller than my early impressions. This spot I've stopped at, now overgrown by moss, is one of many where I would park my bicycle and daydream. I would sit here with my music magazines and imagine what it would be like to climb on a tour bus, to travel to a different city every night, to slam fist pumps with excited crowd goers and exchange glances with blushing girls. It seemed like a different planet—a different universe. But I was confident I would at least try to find it. 
Now, after reaching that plateau from years of failing and learning, I am left with mixed feelings of exhilaration and exhaustion. Traveling globally while playing music and meeting people of different cultures has changed the stance and color of every aging building from my childhood. The road noise and dotted lines has lulled me into meditating on the yin and yang of my life choices. I'm constantly leaving family and friends to pursue one of the hardest industries in the world. It's exciting and frightening—it's 120 decibels in your face then a silent and lonely 4 a.m. in my bus bunk. Maybe most of life is this way, a balance between light and dark, love and loss, or strength and weakness. Maybe they're all tied together, like all of us, and it's the balance of the positives and negatives that make things flow. Maybe we would never appreciate others if we didn't break down now and then and need help. After the spin around memory lane, I spend some much needed time with the family and stop off to see some loved ones in St. Louis. This is when I realize how much I need the connection with the important people in my life. The one's who would be there to answer my call no matter how late it is. With renewed spirits and a heart full of gratitude, I begin the journey returning to the neon of Nashville. 
About halfway back I'm haunted by a melody, I start humming it in my head and then words fall on the notes. All I know, is I need you. To help me figure out what to do ... I like this enough to pull over in Paducah, KY. It's getting dark at this point and it's going to be a very cool ride the rest of the way home. I decide to grab some fuel and a cup of hot, delicious gas station coffee before I take out my phone and write… 
Been moving so long, 
Traveled so many miles, 
Now something's gone wrong, 
And I'm stopped for a while. 
I've put it in park, 
On the side of the road 
The sky's growing dark, the air's getting cold. 
So I open up 
Don't know where I should start 
Maybe my pump's going out or maybe I'm losing my spark 
What I know, is I need you 
To help me figure out what to do 
I don't know, what went wrong 
I have tried it on my own for too long 
Please answer my call, and help me out 
Of this late night heart break down 
I've ignored for so long 
All these warning signs 
The red lights are on 
And they have been for miles 
I could have just stopped 
Or I could have maintained 
But I flew past my chance in a hurry hoping they'd just go away 
Now I know, that I need you 
To help me figure out what to do 
I don't know, what when wrong 
I have tried it on my own for too long 
Please answer my call, and help me out 
of this late night heart break down 
All I know, is I need you 
To help me figure out what to do 
I don't know, what when wrong 
I've tried on my own for too long 
Please answer my call, and help me out 
For one last time, 
Road side, 
Late night Heart Break Down